Email this page to friends
Identity & Access Management


Quest Authentication Services



The Next Generation of Active Directory Bridge Technology


Quest Authentication Services is patented technology that addresses the authentication needs of more than 1,000 enterprise customers with more than 5 million installed seats by extending the security and compliance of Active Directory to Unix, Linux and Mac, as well as to many enterprise applications. Some of the largest and most complex global environments rely on Authentication Services to achieve compliance with cross-platform access control, improve operational efficiency with centralized authentication and single sign-on, as well as unify identities and consolidate directories for simplified identity and access management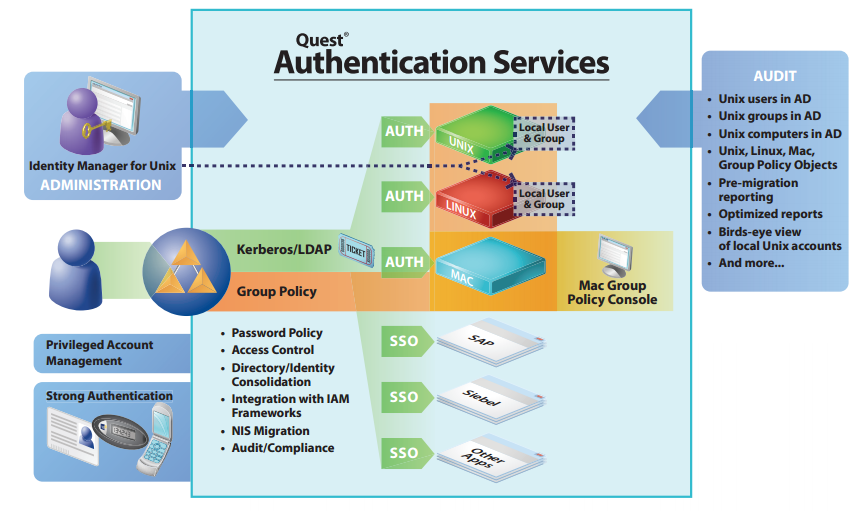 Features:
Active Directory for Unix/Linux/Mac: Extend the authentication, authorization and administration infrastructure of AD to the rest of the enterprise, enabling Unix, Linux and Mac systems to act as full citizens within AD
Administration, Configuration and Management: Provides an intuitive, platform-agnostic web console and centralized access to all tools
Group Policy for Unix/Linux/Mac: Includes a framework for extending policy-based management (through Windows Group Policy) to non-Windows systems, including Group Policy for Mac OS X
Access Control: Extend the native access control capabilities of Active Directory to non-Windows systems, providing the benefits of central control over which AD user is permitted to authenticate to which non-Windows system
Deployment Flexibility: Deploys in an optimized way that best suits your environment, objectives, challenges and timelines. Options range from a non-impact, "schemaless" deployment to a fully rationalized, "get to one" environment
Single Sign-on: Add Kerberos and LDAP to Unix, Linux and Mac systems in the same way they are used in Windows. In addition, the product provides out-of-the-box single sign-on for a number of applications (such as SAP,Siebel and DB2)
NIS Migration and Directory Consolidation: Streamline the process of joining Unix/Linux/Mac systems and users to the AD domain and facilitate migration from multiple authentication mechanisms (including NIS), identities and directories to a single Active Directory-based infrastructure for all systems and users
Simplified Identity and Access Management: Uses an existing investment in AD and AD-optimized identity administration tools. In addition, Authentication Services can dramatically simplify an existing meta-directory, security framework or synchronization solution
Download Document Link:


For more information about Quest Sofware,
please contact our Sales Representative at 2556 2162, or email at sales@ppn.com.hk
Copyright © 2021 Pacific Professional Network. All rights reserved.