Email this page to friends
Identity & Access Management


Quest One Identity Manager
Streamlining Access Governance through Automated User Management and Access Control


Quest One Identity Manager streamlines the access governance process of managing user identities, privileges and security enterprise-wide. It moves user management and access control away from IT capabilities and into the hands of the business. By leveraging an automated architecture, Quest One Identity Manager simplifies major identity and access management (IAM) tasks to a fraction of the complexity, time or expense of "traditional" framework solutions.

Quest One Identity Manager will help you:
Achieve your IAM objectives with less time and money than you thought possible
Ensure access to all applications, platforms, systems and data throughout the employee lifecycle
Deliver IAM without excessive customizations, drastically reducing the time and cost of consulting services
Provide automated provisioning of all resources with minimal coding requirements
Ensure user and resource provisioning meets your business objectives and is not limited by technology resources or capabilities
Enable business employees to manage identity lifecycle processes without involving IT resources through self-services
Incorporate workflow, attestation and separation of duty into IAM to achieve access governance, compliance, security and efficiency
Achieve successful deployment for faster time-to-value while promoting user adoption with Quest Professional Services
Access ongoing assistance from highly skilled, dedicated support professionals with the option to upgrade to Business Critical Support for 24/7 coverage across all global time zones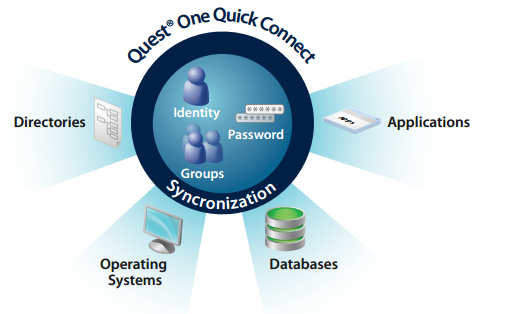 Features:
IdentitySync: Synchronizes identities (typically user accounts) to other systems enabling an Active Directory user to logon to non-Active Directory applications or data sources. Quick Connect utilizes a set of wizards to configure synchronization profiles. Unlike other synchronization solutions, Quick Connect requires no programming.
PasswordSync: Sets initial passwords during provisioning, captures password change in Active Directory, synchronizes it in connected systems and can then enable universal password resets through integration with Quest Password Manager
AutoMapping: Automatically reconciles associated objects (users, groups, etc.) between source and target systems including auto-creation where no object exists, rule correlation, and manual mapping for exceptions.
ErrorControl: Reduces the impact of synchronization errors by providing thresholds and stop conditions that determine if and when synchronization should halt due to errors. Codeless Transformation - Converts object types during synchronization so that the source and target objects can be of different object type.
GroupSync: Synchronizes authorization objects (typically groups) between directories in AD, integrated applications or data sources. Extends your enterprise-wide investment in centralized group management
Download Document Link:


For more information about Quest Sofware,
please contact our Sales Representative at 2556 2162, or email atsales@ppn.com.hk
Copyright © 2021 Pacific Professional Network. All rights reserved.