Email this page to friends
Identity & Access Management


Quest One Quick Connect



The Next Generation of Active Directory Bridge Technology


Organizations today operate at an accelerated pace. Changes to Active Directory, HR/ERP and other identity stores are constant due to new hires, promotions, transfers or terminations. These different identity stores can become out-of-sync resulting in security, compliance and user productivity issues.

An organization's identity stores need to be provisioned and synchronized efficiently. Existing solutions are inadequate because they often require custom scripting and services that cost more than the software itself. Organizations need a quick, inexpensive and manageable identity synchronization solution.

Quest One Quick Connect synchronizes identity data (users, groups, passwords and supporting data for roles) enterprise-wide to support a unified and intelligent approach to identity and access management.

By integrating identities with Quest One, Active Directory-based or enterprise solutions, the provisioning process is automated to control user access, reduce errors and save administrative time and cost. Using a set of wizards, the configuration of synchronization profiles is simplified, and no programming is required.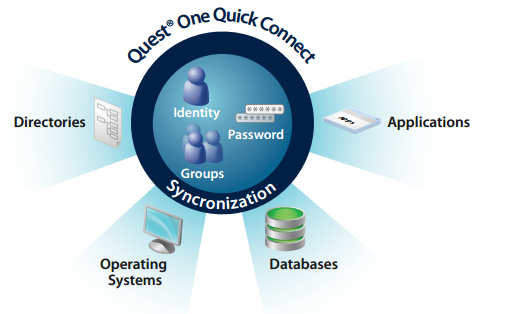 Features:
IdentitySync: Synchronizes identities (typically user accounts) to other systems enabling an Active Directory user to logon to non-Active Directory applications or data sources. Quick Connect utilizes a set of wizards to configure synchronization profiles. Unlike other synchronization solutions, Quick Connect requires no programming.
PasswordSync: Sets initial passwords during provisioning, captures password change in Active Directory, synchronizes it in connected systems and can then enable universal password resets through integration with Quest Password Manager
AutoMapping: Automatically reconciles associated objects (users, groups, etc.) between source and target systems including auto-creation where no object exists, rule correlation, and manual mapping for exceptions.
ErrorControl: Reduces the impact of synchronization errors by providing thresholds and stop conditions that determine if and when synchronization should halt due to errors. Codeless Transformation - Converts object types during synchronization so that the source and target objects can be of different object type.
GroupSync: Synchronizes authorization objects (typically groups) between directories in AD, integrated applications or data sources. Extends your enterprise-wide investment in centralized group management
Download Document Link:

For more information about Quest Sofware,
please contact our Sales Representative at 2556 2162, or email at
sales@ppn.com.hk
Copyright © 2021 Pacific Professional Network. All rights reserved.