Content Archiving - Email, File and SharePoint Archiving Solution

DocAve Software for SharePoint 2003, 2007, and 2010
Comprehensive Infrastructure Management for SharePoint 2003, 2007, and 2010 redefined with AvePoint
The award-winning DocAve Software Platform is a comprehensive suite of products for Microsoft SharePoint infrastructure management and protection. With a unified, browser-based user interface and a fully-distributed architecture, it integrates AvePoint's powerful backup, administration, and data management technologies into a highly scalable, enterprise-level solution for all Microsoft SharePoint Products and Technologies. Though all DocAve modules function within a unified platform, they can be purchased and deployed independently.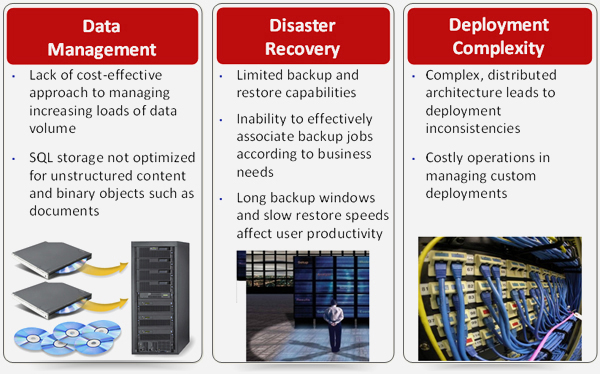 DocAve's expansive array of SharePoint infrastructure management products include the following modules:
SharePoint Data Protection Software
Protect your SharePoint assets with both item-level and full system backup and disaster recovery:
- DocAve Recovery Manager for SharePoint FREE
- DocAve Backup and Recovery
- DocAve High Availability
- DocAve TrashBin
- DocAve SiteBin
SharePoint Compliance Software
Comply with government regulations and your internal policies with complete confidence:
- DocAve SharePoint Vault
- DocAve Auditor
- DocAve eDiscovery
SharePoint Administration Tools
Simplify Administration with truly centralized management of all your SharePoint environments:
- DocAve SharePoint Administrator
- DocAve Replicator
- DocAve Content Manager
- DocAve Deployment Manager
- User Clustering Web Part
SharePoint Testing
Create and test SharePoint environments and usage activity to assess candidate architectures and activity scenarios:
- SharePoint Test Environment Creator
- SharePoint Usage Simulator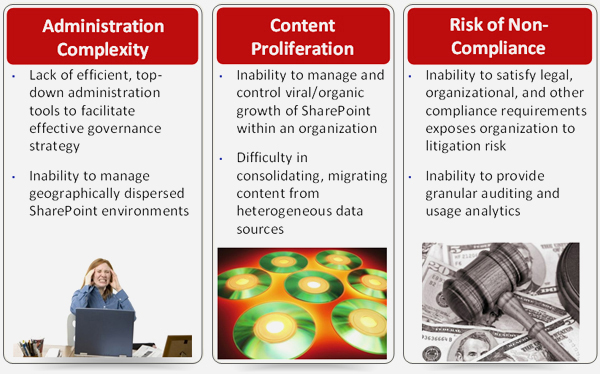 SharePoint Storage Optimization Tools
Optimize SQL resources and accelerate platform performance
- DocAve Archiver
- DocAve File Share Document Connector
- DocAve File Share Multimedia Connector
- DocAve Extender
SharePoint Reporting Tools
Real-time Intelligence about your SharePoint deployment and how it is being used
- DocAve SharePoint Monitor
- DocAve Report Center
SharePoint Migration Tools
Simplify your content and user migration from various sources to SharePoint:
- DocAve SharePoint Migrator
- DocAve Public Folder Migrator
- DocAve File System Migrator
- DocAve Documentum eRoom Migrator
- DocAve Lotus Notes Migrator
- DocAve Oracle/Stellant Migrator
- DocAve Vignette Migrator
- DocAve LiveLink Migrator
- AvePoint Website Migrator
For more information about Avepoint,
please contact our Sales Representative at 2556 2162, or email at
sales@ppn.com.hk
.
Copyright © 2021 Pacific Professional Network. All rights reserved.