Email this page to friends
Network and Vulnerability Management
Datasheet


Security, Compliance and Productivity with Privilege Manager
BeyondTrust PowerBroker for Desktops enables organizations to remove administrator rights and allow end-users to run all required Windows applications, processes and ActiveX controls. By eliminating the need to grant administrator rights to end-users, IT departments can create a more secure, compliant and productive environment.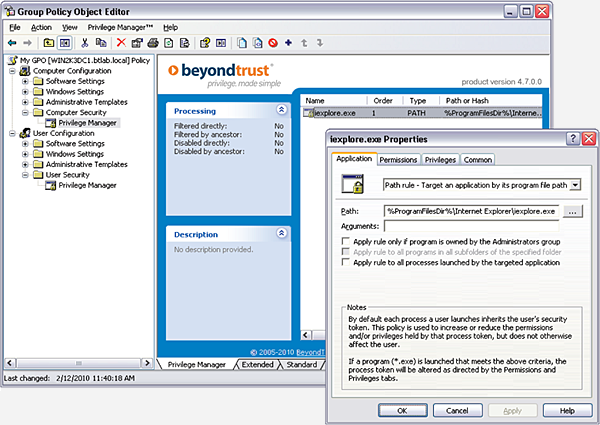 Enable End Users to Work without Administrative Privileges
End-users with administrator rights have long been the Achilles heel of desktop security. These rights can be exploited by malware and users to change standard desktop configuration settings, install unlicensed software and disable other security solutions. However, there is a need to allow end-users to run applications that require administrator rights, and install approved software and ActiveX controls.

Until PowerBroker for Desktops was introduced in 2005, the only way to answer these end-user needs had been to make each user a member of the administrators group and provide them with administrator rights, creating significant security issues. PowerBroker for Desktops solves this dilemma by allowing network administrators to attach permission levels to Windows applications and processes.

PowerBroker for Desktops implements a true Group Policy extension. Simply specify the application and which permissions and privileges should be added to the process token when the application is launched. By setting PowerBroker for Desktops policy, end-users without administrative privileges will be able to run all applications.
PowerBroker for Desktops Enables Organizations to:
Preserve a standard desktop configuration by allowing users to manage only approved computer settings, such as connecting to local printers
Achieve compliance with regulatory mandates by configuring all users as standard users, while still allowing users to run approved applications that require admin rights
Prevent unlicensed software installation by allowing users to install only authorized software
Reduce data theft by preventing access to private data saved locally by other computer users
Increase desktop security by reducing the malware attack surface and blocking unauthorized installations
Implement least privilege by providing only the minimum amount of privileges and permissions necessary for applications to run
Discover Windows applications that require users to have administrative rights
Ease the deployment of Windows 7 by solving Application Compatibilities issues
Centralize control by placing security decisions in the hands of network admins instead of end-users
PowerBroker for Desktops Features


With BeyondTrust PowerBroker for Desktops, organizations control the execution of applications, software installs, ActiveX controls, and system tasks that require elevated or administrative rights—all while keeping the user locked down and preserving the user's security context.

PowerBroker for Desktops is integrated with Active Directory and applied through Group Policy. Policy is applied by creating rules in the Group Policy Object Editor.


PowerBroker for Desktops Allows Standard Users to:
Run any authorized application that requires administrator privileges
Off-the-shelf
3rd Party developed
In-house developed
Software from specified publishers with signed digital certificates
Manually change authorized system level configurations
Local printers
System time
Etc.
Install approved ActiveX Controls
Installing ActiveX controls and other Internet Explorer components
Named ActiveX controls
ActiveX controls from specific URLs
ActiveX controls from wildcard URLs
Install approved applications
Self-service software installation points (unmanaged software installs)
Software installation from specified CDs or DVDs
Additional Features & Functionality
Operates transparently to the end-user without pop-ups or consent dialogues
Configure rules by targeting applications, computers and users using standard Group Policy conventions and PowerBroker for Desktops filters
Authorize on-demand user initiated elevation, to help manage traveling laptop users, developers, and others that need more flexibility.
Log application execution information including privileges and permissions, as well as when PowerBroker for Desktops rules are executed for auditing
Manage admin rights on file system browsing within targeted application
Set Vista and Windows 7 integrity levels for any application, to provide additional protection from potentially damaging system changes
Supports Windows 2000, XP, Server 2003/2008, Vista, 7, and Windows 64-bit platforms
Download Now>>


For more information about Beyondtrust PowerBroker Desktops Windows Edition,
please contact our Sales Representative at 2556 2162, or email at
sales@ppn.com.hk
.
Copyright © 2021 Pacific Professional Network. All rights reserved.