Email this page to friends
Servers & Desktop Virtualization
Datasheet

Citrix Delivery Center



The Industry's First End-to-End Application Delivery Infrastructure System
Nearly every business process today relies on applications. Most IT organizations continue to deploy and install applications, although Industry analysts advise that traditional application deployment is too complex, too static, and costs too much just to maintain, let alone try to keep up with changes in the business.

A Dynamic Application Delivery System
Citrix offers a new and different approach – Citrix Delivery Center – the first solution on the market that delivers applications and desktops to any user, anytime, anywhere from a secure central location. Citrix Delivery Center's market leading application delivery technologies enable IT to dramatically improve agility, while enabling the best performance and highest security at the lowest cost.

(Add an image – Delivery Center)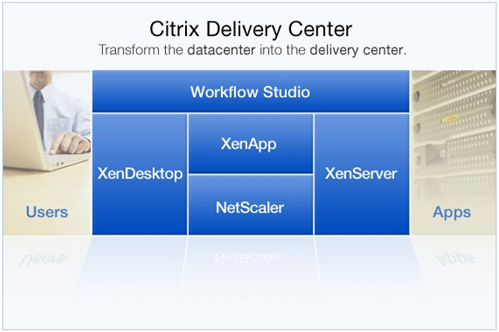 Application Delivery is the Business Enabler
Citrix Delivery Center is dynamic infrastructure that transforms the datacenter from a static, production-oriented facility to a dynamic, service-oriented delivery center. What if you could:
Get new employees productive with their desktop and applications in seconds
Instantly adjust application server workloads in response changes in customer demand
Virtualization - Core Technology for Application Delivery
Virtualization is recognized as the most transformative IT technology of the next decade. However to truly impact the business, server virtualization is not enough - IT requires the power of virtualization from the datacenter for servers and applications all the way to the desktop. Citrix Delivery Center offers the most comprehensive end-to-end virtualization solutions, with server, application and desktop virtualization – purpose built to enable IT to deliver applications to users anywhere.

Delivering Applications is a Defining Issue for IT
As IT organizations struggle to keep pace with the demands of business, application delivery is a major priority for CIOs around the world. Industry experts agree the time is right to make the move from static application deployment to dynamic application delivery.


For more information about Citrix,
please contact our Sales Representative at 2556 2162, or email at
sales@ppn.com.hk
.
Copyright © 2021 Pacific Professional Network. All rights reserved.