Email this page to friends
Backup and High Availability
Datasheet

No Headache Data Redundancy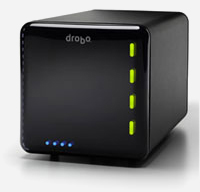 Drobo utilizes the revolutionary BeyondRAID storage technology that protects data against a hard disk crash, yet is simple enough for anyone to use. As long as you have more than a single disk in Drobo, all data on Drobo is safe no matter which hard disk fails. There's no need to worry about anything else.
Incomparable Expandability

Your library of data grows every moment. Now, your storage solution expands in seconds, too. Drobo holds up to four hard drives, can expand at any time and supports up to 16TB on a single volume as disk sizes increase. Choose how big you want your Drobo today with any combination of drives capacities.

FireWire 800 & USB 2.0

Why compromise? Safety and accessibility now go hand in hand. Experience Drobo with both FireWire 800 and USB 2.0. It's the data protection and peace of mind you need with the performance and interfaces you want.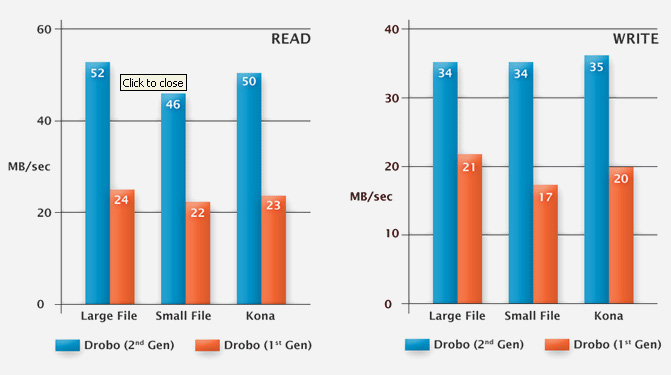 Drobo with FireWire 800 and USB 2.0 Performance Charts¹
Windows, Mac, Linux

Drobo works with all three major operating system platforms and their native file systems².
Hard Drives a la carte

Unlike other storage solutions, Drobo allows you to purchase as much or as little storage as you like up front. Since you can expand at any time, Drobo is the right solution for your budget.
Consolidate Your Storage

Avoid the danger, mess, and hassle of multiple external storage "solutions" and upgrade to Drobo, with the world's only safe, expandable storage technology.
¹ Tests performed with OS X Leopard on a Mac Pro using a 7200 RPM internal hard drive and a Drobo using two 7200 RPM drives over FireWire 800. Large file transfers performed with 1GB of video files via drag & drop. Small file transfers performed with 1GB of mp3 files via drag & drop. Kona video benchmarking test performed using the Disk Read/Write test with the following settings: 1GB file size, DVCProHD1080i60 video frame size, and disable file system cache enabled. Performance will vary significantly according to many factors such as file size, number of files, software drivers, operating system, hardware support, and other factors. Data Robotics, Inc. cannot guarantee all host systems will achieve similar results.

² Linux support in Beta.
What is a Drobo?
Select quote: "Basically, Drobo is perfect... it is bullet-proof"
In this video you'll learn how Drobo storage products take the pain out of keeping our customers data safe. The award-winning ease-of-use inherent in every Drobo product helps every day people get up and running within minutes of opening the box.
Why do you love your Drobo?
Select quote: "...it is my life, my Drobo." — Russell Brown, Adobe Systems Inc.
In this video you'll learn why people really love Drobo. Everyone from creative professionals to medical professionals are using Drobo storage products to safeguard their precious data. Watch them explain what they're storing on their Drobo's, and how it has changed their lives.
How do you use your Drobo?
Select quote: "Now, we NEVER worry about losing our information."
People from all walks of live are choosing Drobo. The one thing each customer showcased in this video have in common is -- irreplaceable data. And they all chose to place their trust in Drobo.
What's on your Drobo?
Select Quote: "Drobo gives me peace-of-mind, because I know they're safe... and that there is nothing to worry about."
Our customer are storing everything from celebrity pet photography, to high-end Final Cut Pro projects on their Drobo's. In this video you'll learn why our customers place their most important files, and their trust... on Drobo.



For more information about Drobo,
please contact our Sales Representative at 2556 2162, or email at
sales@ppn.com.hk
.
Copyright © 2021 Pacific Professional Network. All rights reserved.