Email this page to friends
Content Archiving - Email, File and SharePoint Archiving Solution
Datasheet

Comprehensive Email Archiving Software
MessageSolution's award-winning Enterprise Email Archive™ (EEA) software deftly manages petabytes of data,
a powerful enterprise archiving solution.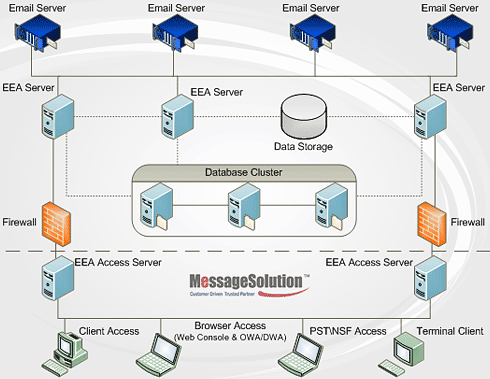 Comprehensive Email Archiving Software
Compliance & e-discovery

Litigation support

Storage optimization

Server performance

Operational efficiency

Information availability
What Distinguishes MessageSolution Archiving Software?
MessageSolution Enterprise Email Archive is powered by a built-in full text search engine and database that search through millions of emails across global locations and data centers within seconds. No SQL server is required. MessageSolution's next-generation backend design improves search and retrieval speeds and makes backups quick and easy.

MessageSolution delivers the industry's highest enterprise level scalability and holds the industry record of archiving 11,000 active users on a single MessageSolution archive server. While this environment has been in production for more than three years, competitive Tier 1 vendors on average archive 3,000-5,000 users on a single archive server.

MessageSolution's EEA Enterprise Suite Edition is comparable to solutions by Symantec, EMC, and Autonomy. In the first quarter of 2009, MessageSolution's development team surpassed these key industry players and became the first archiving vendor in the market to deliver archiving solutions that take full advantage of 64-bit operating systems, providing a true 64-bit application that runs on a 64-bit OS machine. Due to the high cost of re-programming the code to fully support a 64-bit OS, competitive vendors continue to run 32-bit applications on a 64-bit machine, a method that does not fully utilize the system resources that 64-bit OS platforms provide.

MessageSolution Enterprise Email Archive provides full support for all popular email servers, including

Microsoft Exchange

IBM Lotus Domino

Novell GroupWise

Linux/UNIX-based: PostFix, SendMail, IMail, Scalix, Qmail, Kerio, & more
Enterprise Email Archive's cross-server, multi-platform support allows one archiving solution to support your business' current and future messaging environment.

MessageSolution provides multiple editions of Enterprise Email Archive, each stocked with a variety of industry-leading features and functions. For more information on features and functionality, please view the Enterprise Email Archive Product Version Chart.

Achieve Compliance
Enterprise Email Archive captures, indexes and archives all compliance-stipulated metadata to offer customers a comprehensive compliance solution for email management. Read more about MessageSolution's compliance features.

Reduce Storage
High ratio compression and single instancing reduce email storage volumes by an average of more than 75%. MessageSolution's PST Migration Tool allows archiving of PST files. Read more about MessageSolution's storage-related features.

Support Litigation Efforts
MessageSolution provides advanced litigation support features like thorough e-discovery, legal hold, message classification, tagging, transparent annotation, message pathway analysis, and authenticity verification. Data can be exported for further review. Read more about MessageSolution's litigation support features.

Optimize Performance
MessageSolution Enterprise Email Archive can remove emails and attachments from the email server, resulting in an optimized email application infrastructure where employees have immediate access to archived data.

Full Automation
MessageSolution Enterprise Email Archive automates email management. There is no need to manually manage inboxes or PST files or for users to create desktop archive files.

Unified Solution
MessageSolution is among the few archiving solution providers to offer a unified email and file archiving solution. The unified email and file archive can be installed on one archive server, lowering hardware costs. Both archives can also be managed and searched from one convenient user interface. Read about MessageSolution Enterprise File Archive.

The MessageSolution Enterprise Email Archive product family includes multiple editions. All editions provide an intuitive web console with no learning curve.

For more information about MessageSolution,
please contact our Sales Representative at 2556 2162, or email at
sales@ppn.com.hk
.
Copyright © 2021 Pacific Professional Network. All rights reserved.