Email this page to friends
Exchange Solution - Migration, Upgrade and Recovery

FileWay is now better than ever!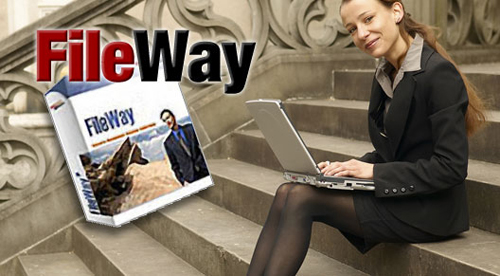 More features for your users…
More familiar windows-like processes (make learning even easier)
Faster display of larger file lists
Play audio and video files in browser
Smaller icon sizes (ideal for portable devices)
Send file links with email (faster and more efficient)
Add additional icons (to support new file types)
More controls for you…
More secure log out functionality
More personalized form-based authentication (your branding)
More personalized upload tool skin (your branding)
Additional file types editor (FileWay Manager)
Includes Active Directory primary groups (FileWay Manager)
Ability to add Active Directory org units (FileWay Manager)
Overview
FileWay now includes an Outlook Web Access 2007 connector, giving OWA users complete document Browse, Read and Write access directly from OWA's main menu.

FileWay also includes Secure Copy/Link solution. Users can paste live links in emails and corporate documents for secure access directly to corporate documents.
An Essential Business Continuity Solution


Download, upload, email, edit, view and manage documents, directories from any browser.

Whether planning for the best or worst of times FileWay deploys and scales quickly to the largest organization.

By delivering secure data access to your entire enterprise ensures uninterrupted access and productivity for enterprises that need to provide reliable access to corporate file shares from any location using just a web browser.

By enabling employees to access internal resources from any location, FileWay helps companies maintain peak productivity while realizing full value from their IT infrastructure.

Traditional VPN technology does not easily scale to larger enterprises. FileWay adds great value to SSL VPN systems, employee portals and (OWA) Outlook Web Access corporate web mail. FileWay can be deployed to the largest enterprise in days and meet business continuity objectives allows secure data access to all corporate employees.


FileWay™ Key features
Browser-based access to the full range of corporate resources such as file servers or users desktops. Support for all common browsers
A simple and intuitive interface that presents files and folders in the familiar Windows look and feel with the ability to tailor settings according to user's preferences.
Desktop like functionality including create shortcut, create a folder, upload and download files, zip and download file or folder, copy to folder, move to folder, rename, delete files and folders and Email files as easily as if the user was working directly on the office workstation.
Never leave files behind on remote systems. Built-in SecureView Technology allows users to securely view vs. download files. Views are never cached in remote systems. Disallow downloads on un-trusted workstations.
Setting up for the largest enterprise is easy. FileWay now includes Dynamic live Active Directory Integration. Whether 10 or 100,000 employees FileWay Manager, connects to Active Directory and does the hard work. When changes are made to Active Directory FileWay dynamically updates. FileWay Manager builds the relationship between File Servers, Active Directory groups, user shares and user access rights.
Integrates with the organizations security and SSL-VPN systems.
Out of the box built-in support for Outlook Web Access (OWA) and Sharepoint Server. Support for other Portlet based portal products.
Integrates with Outlook to provide remote file access without the need for VPN.
No client-side or server-side software to install or maintain.

For more information about Everywhere Network,
please contact our Sales Representative at 2556 2162, or email at
sales@ppn.com.hk
.
Copyright © 2021 Pacific Professional Network. All rights reserved.