Email this page to friends
Exchange Solution - Migration, Upgrade and Recovery

SeOWA Essentials Suite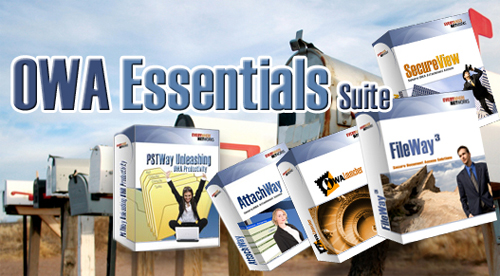 Drive Outlook Web Access Utilization with this set of 5 killer applications, FileWay, AttachWay, PSTWay, SecureView, and OWA Launcher.

OWA Essentials turns Outlook Web Access into a powerful enterprise portal and desktop. By incorporating Single-sign-on users can access their corporate data securely. OWA becomes the new portal dashboard for all means of access.

One Suite Deal, Get our 5 best applications at one low price.


Turn Outlook Web Access into a great application. OWA Essentials includes
Our flagship product FileWay™ delivers Windows UNC file share access, integration to Outlook Web Access, and Windows Active Directory
AttachWay provides deeply imbedded Share Access for attachments
PSTWay our latest OWA enhancement delivers anywhere access to PSTs and personal folders via Outlook Web Access
SecureView offers piece of Mind through attachment security and productivity
OWA Launcher makes OWA easy to use so it actually gets used.

For more information about Everywhere Network,
please contact our Sales Representative at 2556 2162, or email at
sales@ppn.com.hk
.
Copyright © 2021 Pacific Professional Network. All rights reserved.