Email this page to friends
People Counter

TrueView Bicycle™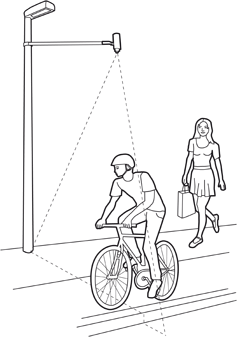 Overview

The bicycle is one of the most efficient vehicles in terms of road space, parking space, fuel consumption and emissions, making growth in bicycle traffic of vital importance for policy makers. Increased bicycle use can reduce the need for expensive new road infrastructure.



Description


TrueView Bicycle™ is a product for counting pedestrian and bicycle traffic. The software installs directly into standard IP cameras. TrueView Bicycle™ offers a unique, cost efficient, scalable, and easy-to-install solution. The entire system is 100 % IP network based using only standard network cameras for the counting. The system requires no auxiliary PC or PLC, no inductive loops and no costly pavement work.
Benefits from bicycle counting
Use your precise knowledge about traffic statistics to:

Improve the cycling infrastructure development and planning.
Follow and analyze trends in cycling traffic activity.
Promote cycling both externally and within your organization.
Fully embedded
TrueView Bicycle™ is a stand-alone pedestrian and bicycle counting application embedded directly in standard network cameras. All counting is done directly on the camera - at the edge - giving a cost efficient, scalable, and very easy-to-use solution for traffic counting. The complete solution is easily installed in an existing local area network and configuration can be done at any physical location using a standard web based interface. The installation can be done by local staff with basic network experience.
For more information about TrueView Bicycle,
please contact our Sales Representative at 2556 2162, or email at sales@ppn.com.hk.
Copyright © 2021 Pacific Professional Network. All rights reserved.