Email this page to friends
People Counter

TrueView Parking™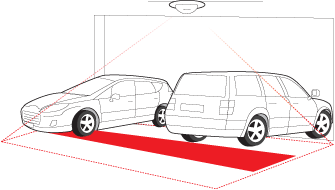 Overview

TrueView Parking™ is a milestone in parking management and embedded video analytics. The entire system is 100 % IP network based using only standard network cameras and IP supported displays for counting and showing traffic to and from parking facilities. The system requires no auxiliary PC or PLC, no inductive loops and no costly pavement work.
Description
TrueView Parking™ is a product for counting and managing occupancy in parking garages. The software installs directly into standard IP cameras, which are placed in the ceiling over entrances and exits for counting vehicles to and from the facility. One camera can be assigned to be master collecting and managing the traffic data from all other cameras in the system. The master camera can also be configured to send the occupancy level directly to displays.
Fully embedded
TrueView Parking™ offers a unique, cost efficient, scalable, and easy-to-install solution, that is 100 % IP based and built on standard off-the-shelf hardware. Using world leading embedded video processing software, all counting is done locally on the cameras dramatically reducing Ethernet bandwidth requirements and increasing system reliability. The complete solution is easily installed in an existing local area network and configuration can be done at any physical location using a standard web based interface. The installation can be done by anyone with basic network experience.
For more information about Cognimatics,
please contact our Sales Representative at 2556 2162, or email at sales@ppn.com.hk.
Copyright © 2021 Pacific Professional Network. All rights reserved.