Email this page to friends
People Counter

TrueView Heatmap™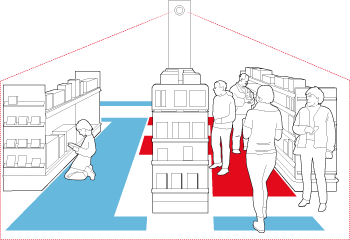 Overview

TrueView Heatmap™ is a visual tool for measuring customer traffic patterns inside retail stores. The product gives instant access to where and when shoppers go in the store making it a perfect to tool to optimize store layout. TrueView Heatmap™ runs fully embedded in standard network cameras and should be mounted in the ceiling or on a wall overlooking the store. A camera running TrueView Heatmap™ can at the same time also be used as a standard surveillance camera, potentially reducing the total project hardware cost.
Store Design
The layout and design of a store is crucial for the shopping experience. Having a well thought trough and tested design can help leverage your business dramatically. Measuring how shoppers are using the space of your store gives you the information you need to test and optimize the store layout - leading to improved space utilization and more satisfied and loyal customers. TrueView Heatmap™ provides an easy-to-use tool that allows for a scientific approach to evaluating store design changes. The product helps you to pinpoint problems areas, find the best merchandising spots for product campaigns, set shelf rent based on the customer activity at that spot, etc.
Data Monitoring
TrueView Heatmap™ data output can be analyzed directly in the camera using a standard web browser by just pointing the web browser to the camera's URL. With some simple clicks the user can view the traffic patterns over the last minutes, hour and half day. TrueView Heatmap&trade data can also be stored on server and analyzed over any period of time using the optional PC software package TrueView Web Report™.
Fully embedded
TrueView Heatmap™ is a stand-alone intelligent video application embedded directly in standard network cameras. All video analytics is done directly on the camera - at the edge - giving a cost efficient, scalable, and very easy-to-use solution. The complete solution is easily installed in an existing local area network and configuration can be done at any physical location using a standard web based interface. The installation can be done by local staff with basic network expertise.
For more information about TrueView Heatmap,
please contact our Sales Representative at 2556 2162, or email at sales@ppn.com.hk.
Copyright © 2021 Pacific Professional Network. All rights reserved.