Email this page to friends
People Counter

TrueView Dwell Time™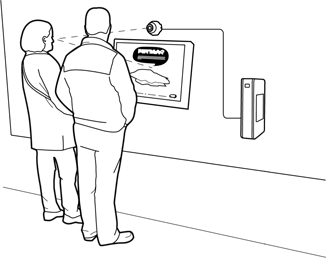 Overview


TrueView Dwell Time™ is a leading product for automatic customer behavior analysis. By placing a camera in the viewing direction of customers and connecting it to PC loaded with TrueView Dwell Time™, it automatically detects, tracks and analyzes customer's faces in real time.
PC based software
TrueView Dwell Time™ is a stand-alone customer behavior analysis application that runs on PC. By streaming video from a standard network camera to PC loaded with TrueView Dwell Time™ it automatically performs face analysis in real time. The complete solution is easily installed in an existing local area network. The installation can be done by local staff with basic network and PC experience.
Benefits from dwell time sensing
TrueView Dwell Time™ gives instant access to customer behavior and demographics such as

how many persons are actually viewing a media installation,
segment viewers according to gender, and
statistics on viewing time.
Use it to measure the impact of marketing actions in your store and customer response to specific in-store marketing elements such as static signs, POP displays and other forms of digital media. Place for example TrueView Dwell Time™ at the entrance and get statistics about the gender profile of your customers.
For more information about TrueView Dwell Time,
please contact our Sales Representative at 2556 2162, or email at sales@ppn.com.hk.
Copyright © 2021 Pacific Professional Network. All rights reserved.