Email this page to friends
People Counter

TrueView People Counter™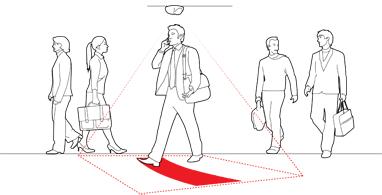 Overview

TrueView People Counter™ is the leading product for foot traffic. It is built on the most advanced algorithms for intelligent video available in the world. TrueView People Counter™ runs fully embedded in standard ceiling mounted network cameras and automatically counts in real time the number of people passing under the camera and in what direction.
Critical data
TrueView People Counter™ provides the critical data you need to leverage your business. Use precise knowledge about visitor traffic to
measure how many of your visitors that actually buy
analyze customer flows and traffic trends
evaluate impact of advertising and promotions
improve staff planning
determine optimal opening hours
identify and reward high performing stores and employees
Fully embedded
TrueView People Counter™ is a stand-alone people counting application embedded directly in standard network cameras. All counting is done directly on the camera - at the edge - giving a cost efficient, scalable, and very easy-to-use solution for people counting. The complete solution is easily installed in an existing local area network and configuration can be done at any physical location using a standard web based interface. The installation can be done by local staff with basic network experience.
Conversion rate
Conversion rate is the ratio of the number of transactions and the number of visitors. It is considered to be one of the most accurate indicators of retail's performance. By constantly monitoring the conversion rate, retailers get crucial information for improving profitability.
Critical data
TrueView People Counter™ is also available in a light version that is also a certified Axis compatible camera application. While the original People Counter can cover up to 5 meters wide entrances the light version can only cover up to 2 meters wide entrances but also features:
Multiple H.264 streams
Multiple Motion JPEG streams
Full frame rate in all resolutions
For more information about TrueView People Counter,
please contact our Sales Representative at 2556 2162, or email at sales@ppn.com.hk.
Copyright © 2021 Pacific Professional Network. All rights reserved.